"The struggles I've faced have made me who I am. You can guess about how well that went from my amount of curse words."- Stefan aka CodeAni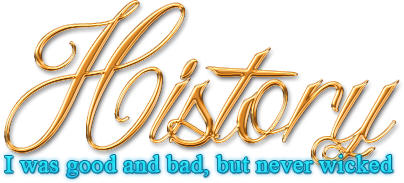 Katerina lived in Nisshoki, Ataiyo for her whole childhood. Her parents different then the people who walked around them. Her father, Thomas, a wolf demon. Her mother, Katherine, a high elemental. The days of her childhood, were the happiest of her life. Most days, her and her father ran in the bamboo forest near they're home. The trees tall, just like they were, hiding them as they ran. There were also days where her mother taught her how to control her powers of ice and snow. Every day was as fun as the last. Even if she had to hide her powers from her friends and teachers. And change without eyes on her besides her parents.

After years of living peacefully in Nisshoki, until after her sixteenth birthday. People started to turn up missing, then murdered. One of her close friends, murdered and her body left for everyone to see. After months, of murder after murder, everything seemed to slow down. No more missing people, no more deaths.

On one rainy day, her and her father went on a run in the forest, in their wolf forms. After a hour or so, Katerina had lost her father. She searched and searched for him then finally returned home. Only thing she found was an empty house. Running out of the house, she made her way to the town center. She found the towns people gathered around the platform near the palace. Moving to the front of the crowd, she saw the the five council members. She would always remember those words, "Thomas and Katherine Silverstein are sentence to death for the murders…." They listed all the names of the deceased.

Before she could scream no, her father's eyes locked with hers. She knew not to say a word. After a few more names, a man came up beside them and pointed to the ground. They both kneel in front of them. Nothing but the sound of rain was heard, then a swoosh of a sword, then two thuds one after another. Her parents heads rolled to a stop at the end of the stage. Katerina didn't move till the last of the people had left.

Katerina left the city that night, didn't even stop by her home for her belongings. This place was no longer her home. And she would never come back.

After 2 years, a mercenary group took her in outside Kurayo, Liking her spunk and how strong she was. First it was to use her, then they grew as a family. Making money by killing people or escorting people was all they did for years. Always trying to make money somewhere and moving around Revliir.

After years of being with them, they soon all started to die off of old age, or killed by a mission. The last to die was her Leader, Jonathan. She cared for him as he grew older and older, and soon couldn't travel anymore. They went back to the place he had met her for the first time. Kurayo. His death was hard on her. Johnathan had became like a father to her. Which brought up memories of her past she didn't want to remember. She cried for the last time when she laid him in the earth. No tears has ran down her face since.

She traveled after that, town after town, doing whatever work she could. But she always came back to Kurayo to visit Jonathan's grave and to spend time with people like her.

Around her Three Hundred birthday, she ventured into Itjivut. A place of ice. Her heart sang as she walked further into the snow covered lands. After a few hours, she heard a yelp and howls in the distance. Running towards the sounds of wolves, she saw hunters gathered around five wolves. One half dead on the ground. She didn't hesitate to transform and kill ever last hunter there. After, she patched up the wounded wolf and nursed it back to health. The wolves never left her side since.

After a few more hundred years, the wolf demon became an assassin. It was good pay and she didn't have much of a heart. With the people she ran with, she had a relationship with one of the men, Jax. With him, they were going to have a life together. Becoming pregnant, she would soon loose the baby in childbirth. After this loss and Jax leaving, Katering moved on. Any job that came up, weather it was a hunt or protecting a caravan, she did it.

Many years had passed since then. Katerina' found out from an unlikely friend, Natsumi. Her family was innocent of the crimes they were once accused of, and everyone of the land knew it. It was her Uncle, from her father's side, that really killed many people in the city, all because he loved the same woman as her father.

On an island in the middle of the sea, her uncle found her. He said that he had placed a curse on Katerina to never have children and it was time for her to die. Much to his dismay, Katerina was the one to kill him and his pirate army; with the help of Natsumi. Upon killing most of the pirate's, Katerina found a small girl on the ship, along with many other slave women who were used for reproducing and much more. Katerina helped them to a safe harbor and left, never seeing the women again and only taking a child and tiger with her. The child, now named Kiyomi Katsu Silverstien.

About 3 years later, Katerina was working a job in the viren's forest. A monster was taking all the adults and leaving the children without memories. She wasn't able to take down the monster and was raped. She was saved by an unknown person and soon became pregnant. When Katerina awoke with another by her side, they both went their separate ways. In doing so, Katerina found one little girl deep who was from the village that was attacked. Not wanting to leave the girl alone, Katerina took her in. Her name, Eden.

Being pregnant was a scary for Katerina, she didn't know if the child was going to die like many others. But, with the uncle dead, so was the curse. Katerina carried the child to full term and delivered. It was a joyous time in the Silverstein household, Kiyomi and Eden was eager to be a great big sister, and Katerina wanted to be the best mother ever. A month had passed, and the joyous time would soon come to an end. One night, Katerina awoke to silence, going to the crib of her baby, Gabriella, it was empty.

The wolf demon searched and searched, with no evidence left behind, Katerina had no leads. It had been three months without any sign of her child. Eden soon came to her mother saying it was time for her to venture out. Not having a will to fight, Katerina let her other child go. Now two children gone, Katerina fell into a stump. She wouldn't leave her house, and only eat and drink what would sustain her. Kiyomi stayed by her mother's side, always trying to push her to leave the house and travel since that was what her mother loved most.

Almost three months later, Kiyomi got her mother out of the house. There was a battle going on and Kiyomi wasn't going to let her mother stop her. Katerina wouldn't let her daughter go into battle alone, so followed. The battle awoke the wolf demon from the slump she had been in for months. Or was it seeing an old friend she had been through so much with. Would following Natsumi into the dark be the worst for the demon? Or something that could help her move forward?


Clickable Links:
Silverstein Daughters
Companions
Threads
Current
Completed